Price wars have existed since the inception of retail. They are unavoidable in a competitive marketplace and can be a great thing for the consumer! However, they also invite deception as companies try to take shortcuts to growth and decide to ignore the rules. Most states have very specific advertising regulations and most dealerships are fully aware of what is allowed. Unfortunately, many will choose to skirt the laws and pray no one turns them in to the attorney general's office. I would like to highlight some of the more common deceptive practices that customers need to be aware of. A more detailed explanation is listed below. The most common infractions include: subtracting Limited Rebates (rebates that not everyone qualifies for or are conditional on financing), subtracting Destination and Delivery fees, lumping all discounts into a vague "dealer discount" without explaining what the discount consists of, and low monthly payments that have unrealistic criteria.
Getting a great deal on a new car is important to everyone. What is equally important is identifying what a great deal consists of. Price is important. However, it's not the only factor. Can you trust the dealer's advertised price? Are they transparent in their discount? Will this dealer take care of me after the sale? No one wants to show up to a dealership to discover their price will be significantly higher than the advertised price. There will always be some extra fees like license, title, doc, and taxes. Those cannot be included in the advertised price because they vary based on the customer's location and trade-in situation. However, the advertised price should always be the price any customer can purchase the vehicle for, regardless of their situation!
1.
Limited rebates
. Illinois advertising regulations clearly state that any rebates that are considered "limited" (not everyone qualifies) are not to be deducted from the sale price. They cannot even be listed without explaining the terms of the limitations. The most common limited rebate is a rebate that requires financing with the manufacturer's captive finance source. Other examples include
Farm Bureau, Military Appreciation, College Student
, etc. The availability of a limited rebate may be advertised if the terms of the limitation are clearly and conspicuously disclosed. It is an unfair or deceptive act to advertise a price or amount of an installment payment in which limited rebates have been deducted, or to advertise a total amount of rebate if a portion of the total consists of a limited rebate.
2.
Destination and Delivery
. All new vehicles include a destination and delivery fee on the invoice and window sticker of the vehicle. They can range from $800 to $1200 or more. This fee is clearly stated and included in the price of the car just like the cost for leather seats, a moonroof, or other options. More and more dealers are deducting this fee from their sale price and putting "destination extra" in the fine print at the bottom of the ad.
Section 475.310 Advertised Price
It is an unfair or deceptive act to advertise the total price of a motor vehicle without including in the advertised price all costs to the purchaser at the time of sale, or which are necessary or usual prior to delivery of such vehicle to the purchaser,
including any costs of delivery
, dealer preparation and any other charges of any nature; provided, however, taxes, license and title fees and a documentary service fee, as defined herein, may be excluded from the advertised price if clearly disclosed in the advertisement that these costs are excluded from the advertised price. Purchasers shall be able to purchase all vehicles described by the advertisement at the advertised price.
3.
Vague prices
. Many dealers are showing one lump discount that includes rebates. It is often labeled Hometown Motors Discount and it is impossible to know what portion is dealer discount, rebate, or limited rebate. If you see this on an ad, make the dealership give you a clear break-down of the discount before you come in. One of the more outrageous "discounts" that we have seen was actual customer cash down listed among the "discounts". The large print "sale price" included $2000 customer cash down!
4.
Unbelievable low payment
. Advertising a payment is common practice. However, be sure to look close at the fine print. Most advertised payments do not include taxes and fees, which could total to thousands of dollars. Many will then designate in the fine print a large customer cash down payment on top of the taxes and fees. We have seen incredible payments advertised that required $8000+ cash down at time of delivery!
So, what is our answer to how do you compete in a price war? With integrity, transparency, and relationships! We know that we have lost deals because customers are lured in by deceptive advertising and feel trapped after they make the trip to the dealership. However, almost every week we have a customer enter our showroom and express frustration over the discrepancy between the advertised price and what they were actually quoted at another dealership. Vague or out-right deceptive advertising is a short-term approach and never pays off in the long run. For over 60 years, Mangold Ford has stayed true to values of integrity and long-term customer relationships. We have laughed, cried, and worked side-by-side with multiple generations of the same family over decades. That business model not only works, it allows us to lay our heads down at night with a clear conscious and a sense of true satisfaction!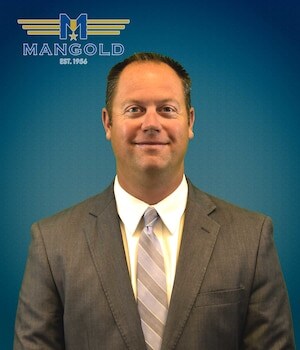 Jeff Wiegand
General Manager
Mangold Ford